We listened to the feedback from program providers and users to make some exciting changes on BostoNavigator. Check them out and let us know what you think!
Simple Search on Homepage
Our new homepage features a simple search to make it even easier to find the program you are looking for: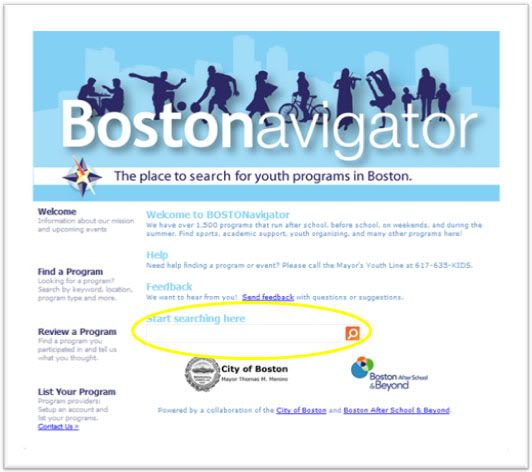 Add Program Logos and Images to your Profiles
Programs can now add an organization logo or photos to personalize their program page.  At your user login, click the 'image' button.
From there, you can add up to five photos. Be sure you have permission to publicly publish any images you select.
Upgraded Email Feature
Now emailing search results or a program listing is easier than ever! Now when you email a full search result, you can add a comment to the addressee and the program name in the email will be hyperlinked to the program profile in Navigator.
If you are just emailing a specific program profile, you can also add a comment to the addressee as well.
We are also working on improving the search by Map so look for that improved feature soon. More to come soon!
And don't forget- if you want your program to be searchable in the database, be sure to check the "Show in Results" box!
Enjoy these new features and we welcome your feedback on how to continue to make BostoNavigator your go-to site to find out of school programs in Boston.